If you suspect that foods may trigger or worsen your symptoms of gastroesophageal reflux disease (GERD), try keeping a one-week daily symptom diary. Share the information with your doctor during your next visit. It may help to gain a better understanding of your symptoms.
For the next 7 days, keep a record of any and all heartburn and other symptoms you may have, and how often they occur. Record each symptom each time it occurs, even if it occurs several times a day. Make sure your diary is accurate and complete.
Throughout each day record the time of day, description (food and amount), activity, and any symptom that follows (including "none").
Name the symptoms you experience (refer to this list of common symptoms of GERD). Examples include:
Heartburn (burning discomfort that rises into the chest)
Sour/acid taste in the mouth
Difficult or painful swallowing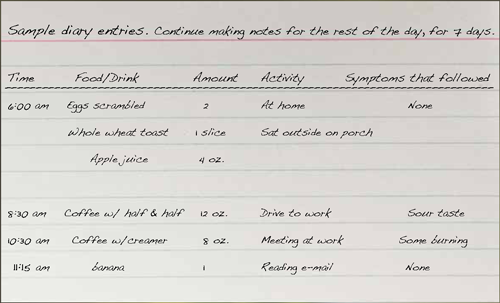 Need a little help getting started?
Learn more about how to keep track of your symptoms using a symptom diary. Print out this complementary 1-week diary template to help you get the most out of your next doctor visit.
Published in Digestive Health Matters, Vol. 23, No. 3.